Be 'vewwy vewwy quiet' and you might catch all the details in It's Not About The Numbers' latest cache tutorial by Joseph Acamo. This creation is now the basis of the second hide (GC2QYZ0) in the Nebraskan geocacher's Garden Series.
HE WRITES: Today was a first for me. I spotted a likely geocache container while out grocery shopping and did my cache page, container modifications, placed and submitted it to Geocaching.com all in one day! Quite a feat for a procrastinator who is sitting on dozens of unfinished or unplaced containers.
My purchase was a soap-bubble solution and wand in a carrot-shaped container. Immediately a thought flashed through my mind that a second cache was needed in my Garden Series; the first being a lonely little petunia in an onion cache. This one would be less pungent but a bit trickier to make.
The carrot's bubble wand was quite long, providing the perfect spot to wind a log around, while the round end would make a good handle for rewinding it. But the body of the container had wide shoulders  so I was concerned the log would unwind, making removal difficult, or perhaps even tear when people pulled it out.
To address this problem, I opted for a sleeve that would slide over the log to contain it yet slide back out of the way as geocachers sign their names. The wand fit into a socket in the cap so it was easy to pull that out and start looking for something to make the sleeve with.
What I found was a clear, round tube of body wash we had brought home from some hotel stay. It just fitted into the neck of the carrot container, so I was in luck.
Task No 1, after writing up the cache page, was to determine how wide the log should be while still letting the sleeve both cover it and pull back far enough for finders to easily unroll. Once that was sorted out, I cut the sleeve to length with a razor knife and smoothed the new edges.
Choosing a drill bit big enough to accommodate a ridge near the wand's cap determined how big a hole I should make in the flat end of the sleeve. After one of the circles on the wand was cut off, my creation was ready to assemble.
For the log, I cut two identical strips from a sheet of ruled paper, then joined both together with paper first-aid tape (which can be written on) and attached one end to the wand. After rolling it several times, the logsheet developed 'memory' and stayed relatively tight, enough to fit easily within the sleeve.
Almost done … Slip the sleeve over the cap end of the wand before gluing the wand into place.
Now most people would stop here, but I still needed to make the container fit my cache page description.
Its title is a quote from Warner Brothers cartoon character Elmer Fudd, who was always hunting that "wascally wabbit", so I figured this time Elmer would try to trap Bugs Bunny using the carrot as bait.
Disabling a mouse trap, I tied some nylon cord from its trigger area to the neck of the carrot, adding glue to make sure the knots didn't slip off . We have the trap, we have the bait and now Elmer just has to wait.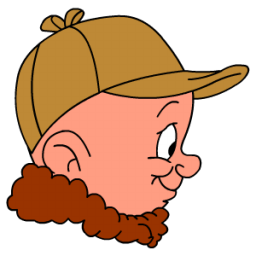 "Shhhhhh!
I'm twying to twap the wascally wabbit what's been eating up my gawden!
Be Vewwy Vewwy Quiet
and
Be caweful not to twip the twap.
Please wehide as found. Th-th-th-at's all folks!"
For more of Acamo's creative caches, visit Online Geocacher.
* Once you've made a carrot cache, please send us a photo of your end result – hopefully, with a link to its cache listing.