It's an age-old story with a modern twist … Boy meets girl, girl introduces boy to geocaching, boy writes song about his newfound attractions.
And it's exactly how the song Geocache Girl by Irish pop-punk band Starters came to be.
Guitarist and vocalist Ciarán Parnell – that's him above right – wrote it as the Dublin five-piece was forming in late 2009 after meeting the song's heroine while out one night.
Though he gentlemanly "doesn't want to give away too much or reveal her identity", he will say: "I told her I'd find her on Facebook and, in order to do that, I got her name and asked her what her profile picture was like. She told me she was geocaching in it, which I thought was really cool.
"We talked on Facebook for a bit about geocaching and other stuff, and, like I said, I just got really fascinated … I ended up asking her out but she had a boyfriend, so the story kind of ends there, sorry! Still, I thought the idea of a song called Geocache Girl was too good not to do so we finished it off and I'm really happy with the result."
Completing that work of art took "maybe four or five months" from "writing those early riffs to finishing the song properly" but the subject matter isn't that unusual for him, apparently.
"I'm a bit of a geek and tend to write what I guess are kind of niche songs based around aspects of technology and culture that interest me. It's more evident in my solo material than Starters' stuff, since the lyric-writing is split three ways in Starters."
While Parnell (GC handle xCiaránx) may not have found the romance he was looking for, he has developed a genuine affection for our hobby – though he admits not owning a GPSr has limited his find count (currently at three).
"But on my birthday in February just gone, my parents got me a new phone (a Nokia C5). While it's pretty basic compared to a nice smartphone or dedicated GPS, it will at least let me get out and find caches more regularly. I've actually got a day of geocaching planned with a friend soon, so I'll probably more than double my cache count on that day alone …"
And he's already worked out his first hide. "I actually had an idea, which I hope to get done one day, of hiding a cache with a limited-edition copy of one of our future releases (with a bonus song or some other treat), and then printing the co-ordinates of the cache on the normal copies of that release."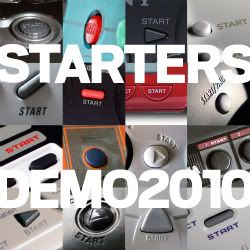 Contrary to recent publicity for the pop-punk band's acoustic version of Geocache Girl, Parnell says: "It's actually one of the oldest songs we have, we played it at our first show just over a year ago and it was also on our first demo, which we released last May.
"People have received it really well. I've had a few people tell me that it's their favourite song of ours, which is always nice to hear since it's really the only one I can take full credit for!"

Geocache Girl also appears on Starters' new self-released acoustic EP.
Despite lyrics such as "I'm at your latitude tonight/We'll call on the satellites", Parnell says he doesn't have a favourite line from the song.
"Ha, I just went looking through the lyrics. I managed to make 'find treasure in the snow' a reality while we were on tour in the UK last December though, which I was really chuffed about."
In answer to fans who ask about the subject matter, he sticks with the tried and true "it's like a hi-tech treasure hunt" line.
"I think that's a strong enough description to get people interested, though. I enjoy letting people know about it, and sometimes we'll say a little bit on stage before we play it. It's great that at least a few people that wouldn't have known about it have been introduced to it because of the song."
Having just completed their first major tour of the United Kingdom and Europe, Parnell and his bandmates are now concentrating on writing new material. "We've got a split-release with a band from the United States in the pipeline, and after that, we need to work on a full-length album."
Either way you're sure to see his name again – either in the music charts or a logbook near you.
* To hear more about Starters, check out the band's Facebook page. You can download Geocache Girl for free or buy the acoustic version for  €1.