EXCLUSIVE
In a tutorial just for It's Not About The Numbers, Joseph Acamo of American e-zine Online Geocacher explains how to make his latest cache creation – the Not What.
I was originally going to post instructions on making a 'Why Not' … but that was a big job and, being a procrastinator, I decided it would be quicker to show  how to make a 'Not What'. I will do the first one sometime, though, because it's a good idea and I figure, why not?
Browsing my local dollar store recently, I spotted this Nintendo ™ Super Mario Brothers Ba-Bomb character container in the candy aisle and bought up a few of them. The fuse and 'blasting cap' unscrew to reveal a tart cylinder of candy and a 'bombshell' full of powder. Taking a taste … mmm swweeeeet! It's a cherry bomb!
Generally, I try to write up my ideas for the cache page first and, when I'm happy with that, I'll move onto the next step and start building it. In this case, even though it probably isn't required, I am going to over-engineer the project – just to show some possible solutions to problems one might find with creative cache construction.
Job 1: Remove the candy cylinder by carefully twisting and pulling, and then dump out the cherry powder from the shell. Next I clean it thoroughly with soap, hot water and a diluted Clorox solution to get rid of any animal-attracting scents. The centre of the blasting cap is just about right for a small, inexpensive bison tube to be glued into so I decide that is what I'll do.
My main concern, whether valid or not, is that the torsion of opening the tube repeatedly will eventually cause the glue to lose its grip and let the cache fall out. To address this, I grind slight 'flats' into the sides of the tube – being careful not to grind through – before cutting little 'flats' inside the cap itself.
Now to select glue that will hopefully hold both metal and plastic equally
well. I decide on an epoxy  because I felt it would grip into the ground surfaces a little better – only time will tell if I made the right choice. 
To improve adhesion, I use some 100-grit sandpaper to rough up the bottom of the tube and the inside of the cap's inner ring. The key in the back of the shell comes off also, so I glue that in place to avoid it eventually becoming lost.
Now I just have to keep everything in position until the glue sets. In this case, I found a plastic thread spool and cut out a place for the wick (so that the cap would sit flat) and used a thick O-ring to support the tube until the glue set. It was a bit too big to leave on permanently, though.
As a final touch, I add an O-ring to the cap to help give it a better seal. It's not really necessary since the log is inside a bison tube, but I just happened to have one that fit perfectly. NB: I did have to flatten the tube's keyring slightly so it would go in the neck.
All that's left is to clearly mark the outside as a geocache for those that don't believe it's … Not What it Appears to Be.
Yeah, it's a … it's a … game character, a plastic game character. Yeah, that's it!
Just a plastic game character … nothing to see here … just sign the log … and  move along. Thank you for your concern, but we have it all under control … move along.
Oh, and thanks for the training.
Warning: If you make one of these, it would be a good idea to send a picture to your local reviewer to see if they have any issues with publishing the cache. And don't place it near schools or public/government buildings – there is no sense in begging for trouble with public safety officials.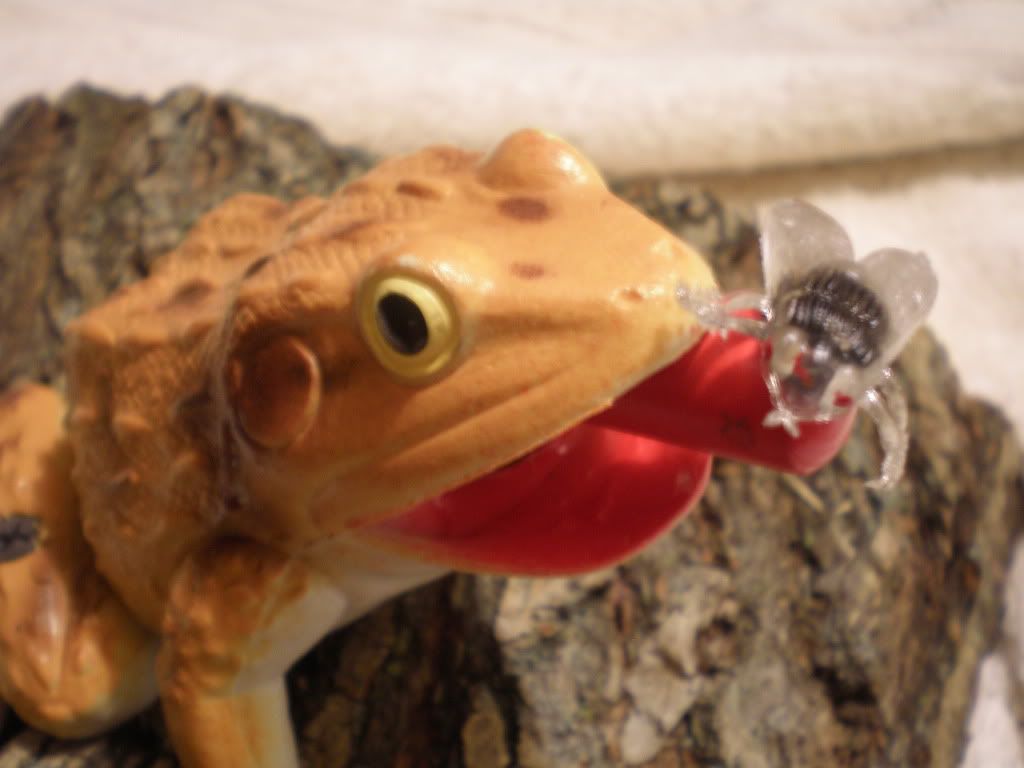 Be sure to check out Acamo's Cache Critter series – including a cobra, firefly, frog on a log and pelican – at Online Geocacher.
* And if you make a Not What cache, please send us a photo of your end result – hopefully, with a link to your cache listing.