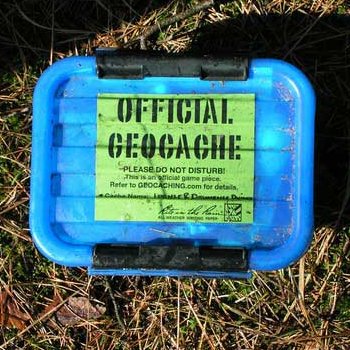 There has been a small amount of talk in geocaching circles in the last week as to whether there should be certain requirements cachers need to meet before placing a cache. It's an issue that has been around for years without finding a solution.
Head Hard Hat had a small vent after a cache placed by someone with only 20 finds was located on private land that had a very clear no trespassing sign.
This simply could be a case of not doing your homework before placing but I am really thinking there should be a geocaching guideline stating you should not place a geocache until you reach a certain amount of geocaching finds first. Call me crazy but after say 100 geocaching finds you gain a good geocache sense. Knowing the difference between a good or poor placement.

Would it be too much to ask for a guideline such as this?
Lone R picked up the bandwagon and gave some suggestions about what he thought should be in place
First and foremost I'd like to see a time period of at least 3 months registration before anyone can plant a cache. Then allow one initial hide. After 3 more months, once the CO has experienced the responsibilities of ownership and hasn't become bored, restrictions are lifted. This should weed out the fly-by-nighters.

I'd also like to see a small amount of cache finds required.

Do we really need COs who wouldn't wait 3 months before hiding a cache? Anyone who would quit geocaching because they had to wait a few months would likely not be a responsible owner.
And then there is the timely Geocaching.com Latitude 47 blog post about the basics of geocache placement, including the following excellent Lost & Found video that has an excellent cameo from local Kiwi reviewer and some equally handsome shots of the Otago Pennisula.
There is even a suggestion in the feedback section on geocaching.com that cachers be required to have 50 finds before placing a cache. This suggestion is currently ranked 6th with 671 votes from 341 supporters.
I've experienced quite a number of caches placed by newbies that were below par and as a result have seriously considered supporting the idea that there should be a minimum number of finds before being allowed to place. I've come to the conclusion that those kind of restrictions would be detrimental to the hobby and negatively impact the experience for new cachers. In light of the increasing competitiveness in the geocache listing arena turning cachers away from your service is not something any site should consider.
The only idea that I think is suitable is where first time placers are required to pass a short, online, multiple choice test. The idea here is not to make it difficult to become a cache placer but to ensure that placers have a basic level of knowledge before attempting to place. Once passed cachers would then not have any excuse for placing terrible caches. The test could be taken as many times as needed, not that it would be hard, because repetition would only assist in the newbie cachers learning about cache placement. The solution is simple and the least limiting of all the options I've seen so far.
Of course one could argue that the trauma of a terrible placement is all part of the fun of the game…
UPDATE: It seems they have been having this debate recently in Portugal as well!